The background thinking of this is that building boats in the Philippines means that many parts are not available.
This has forced us to eliminate fittings – it is unlikely that you will find another  racing class with as sparse a list as this. And remember … we still want to win races, so this very small list has to work. We use spectra ropes as fittings in several places.
The basic fittings list is: three blocks, rudder fittings, a stainless steel ring and a plastic 4″ horn cleat. Most of the boats were sailed with just this before the inspection ports were added later.
All ropes are 4mm except for the mainsheet which is 6mm.
A good explanation of where they all go is on the Oz Goose Lug Sail rigging page. There is also a video for rigging the Oz Goose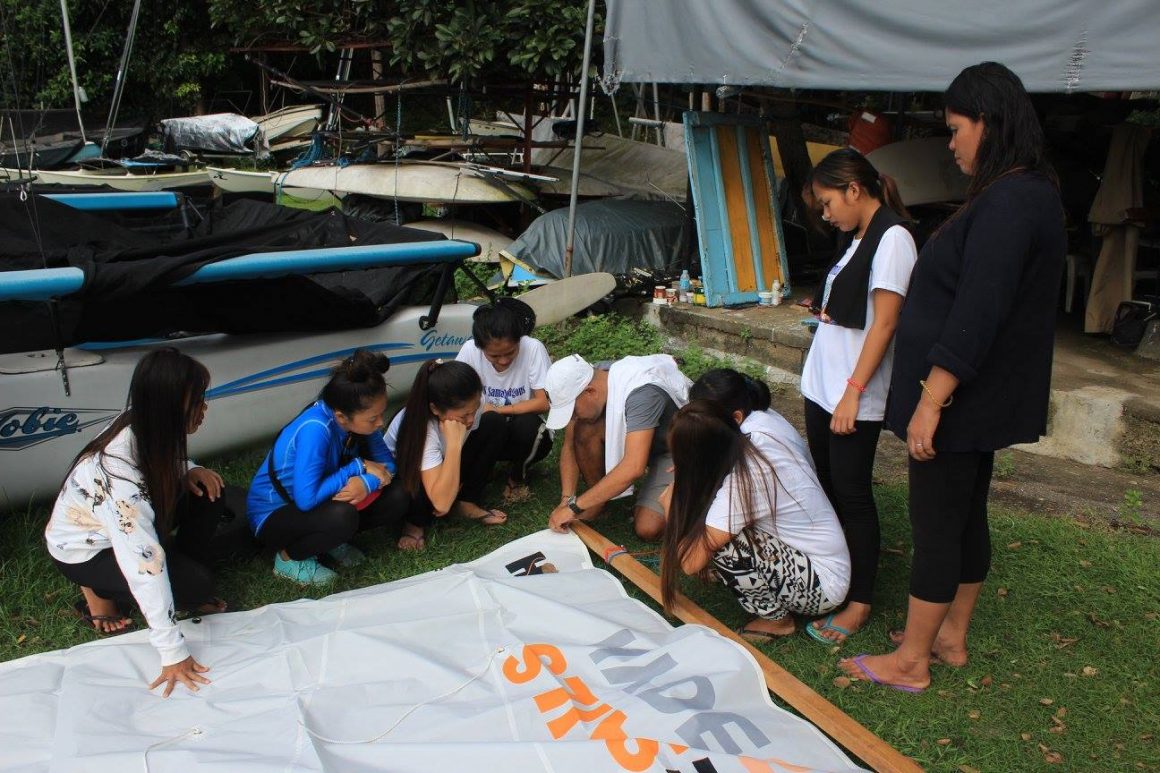 We keep the rope diameters down as a strategy for reducing friction. We run in slightly oversize blocks (pulleys) and small lines.
Same goes for the mainsheet. It is double braid which is easiest on the hand but also small diameter to keep the block sizes down for cost – you won't need ball bearing blocks if running smaller lines.
The other aspect is stretch. If  not using spectra for halyard and downhaul a lot of performance is being thrown away. Not  to mention a huge increase in reliability. The 4mm size also means the cheapest metal cleats will hold the control lines if you want them adjustable.
Forthwith the rigging list. If needing to substitute do an image search on google for the part number and description to see an image – then you can find a local fitting that will have the same function. The Ronstan brand, though Australian is available in most countries at least from online suppliers. Most other brands are quite regional. Harken is well distributed but is expensive and not considered to be the most reliable.
6mm is 1/4″
4mm is 5/32″
| | | | |
| --- | --- | --- | --- |
| OZ GOOSE FITTINGS |   |   |   |
|   |   |   |   |
|   |   |   |   |
| Recommend gluing all screws except rudder fittings with epoxy |   |   |   |
|   |   |   |   |
| For rope types and correct methods see http://www.storerboatplans.com/GIS/GISRigging.html |   |   |   |
|   |   |   |   |
| Ropes |   |   |   |
| | | Length | Length |
|   | Type | m | ft |
| Shockcord foils | 5 or 6mm | 3 | 9.8 |
| Mainsheet | Double Braid – 6mm – no bigger | 11 | 36.1 |
| Sail lacing | Polyester cord – 3 or 4mm | 8 | 26.2 |
| Toestrap lacing | Polyester cord – 3 or 4mm | 2 | 6.6 |
| Hiking strap | seatbelt webbing 50mm wide | 2 | 6.6 |
| Traveller | Spectra – 4mm | 1.5 | 4.9 |
| Main Halyard – recommend blue for all boats | Spectra – 4mm | 9.5 | 31.1 |
| Downhaul – another colour | Spectra – 4mm | 2 | 6.6 |
| Preventer/bleater – yet another colour if poss. | Spectra – 4mm | 1 | 3.3 |
| Corner laahing for sails – head throat and tack. | spectra 4mm with outer removed | 4 | 13.1 |
| |   |   | |
|   |   |   |   |
| Fittings | Ronstan part number | Qty |   |
| Halyard deadeye | PNP122 or similar | 1 |   |
| Halyard cleat | RF521 4inch horn cleat | 1 |   |
| Rudder gudgeons – must be continuous pin type | RF239 | 2 |   |
| Transom gudgeons | RF254 | 2 |   |
| Rudder pin | locally made 6mm x 300 | 1 |   |
| Mainsheet boom blocks | RF280 | 2 |   |
| Mainsheet Traveller block | rf2332 | 1 |   |
| Inspection ports – with build in O-ring | 150 or 200mm diam screw in ports. | 2 |   |
|   |   |   |   |
| Options … highest priority is the ratchet block |   |   |   |
| Adjustable Outhaul deadeye | PNP122 or similar | 1 |   |
| Adjustable Outhaul cascade | RF571 | 1 |   |
| Adjustable Outhaul cleat clamcleat | CL211mk2 Clamcleat | 1 |   |
| Emergency Tow rope | 6mm waterski rope | 8 | 26.2 |
|   |   |   |   |
|   |   |   |   |
| Tiller extension swivel – urethane | RF3133 | 1 |   |
| Tiller extension aluminium tube 17/32" inner diam metres |   | 1.2 |   |
| Basic swivel ratchet block | RF46100 | optional | |